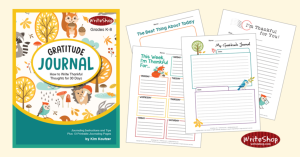 It's easy to take people and things for granted when we see them every day.  They become part of the wallpaper, like the colours in our sitting room.  We no longer really notice them: the eye and brain no longer pay attention.  And yet that doesn't mean we don't appreciate them – after all, we chose them and on both conscious and unconscious levels they probably still give us pleasure.
But the quality of our lives is greatly enhanced when we do stop to open our eyes to those things that we can be grateful for.  As a mental focus it brings great benefit and more happiness.  But little happens in the mind unless we train it to seek out what supports us and gives us pleasure.  Perhaps take a moment now to turn away from this screen and look around you at the items or people who surround you.  What brings a smile to your lips?  What warms your heart?  What can you be pleased with yourself for having created, bought or brought into your life?
It strikes me that if children in schools could be taught this practice of gratitude-awareness they might become less anxious and depressed.  With endless reports of rising numbers of young people suffering from mental illness I can't believe it wouldn't help them stay stable and become more resilient if they had their eyes opened to what they can be grateful for.
Perhaps every morning in assembly or in their class they could be encouraged to stop and reflect on how fortunate they are in one way or another.  They might start with three things each day and raise that up to as many as ten or more as they become more aware of what they have that brings them support or enjoyment – whether it be loving parents, friends, good health, a home, the skills or talents they personally possess. Read more →