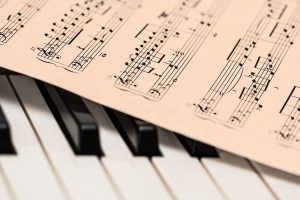 My new car doesn't have a CD player.  The Peugeot salesman told me it was dead easy – just plug your iPhone into the slot and you have music.  But I don't… because I have never bothered to download music onto my iPhone.  When I am travelling on the tube I have watched and overheard the incessant sound of music drumming in other people's ears but never really felt the urge to listen to music in this way.  I have rather enjoyed a little silence.  And silence is hard to come by these days.
But in the car I do like to listen to music and just at the moment I can't because I can't get the dratted iPhone to transmit anything that I really want.  Sporadically I succeed in listening to Spotify but it doesn't seem to work every time and I end up thoroughly frustrated.  In the house we have Alexa and it plays some of the music we want to listen to but again we haven't mastered the technology enough to get it to play everything we want.
And so both of us look at our CDs and feel nostalgic that they are disappearing.  David's study is full of his old vinyl records and I can understand why.  I did sell most of mine, except for my Beatles and Stones collection, of course.  And weren't we told that CDs would last for ever?  But they don't, do they?  They jump and get stuck just as the old vinyl did.
And so now everything is streaming and, as I sat in a wonderful concert of Chopin Concertos in the OSM in Montreal last night, I suddenly realised that giving music to a loved one is no longer possible.  When my granddaughter started to play the piano I gave her some CDs of beautiful piano music including Beethoven's Emperor, and my son put them on for her at night to calm her into sleep.  But now their house, like the houses of most of our young, is all digital and streamed and clever and so the opportunity for me to gift a CD of music to her now has gone.  And I realize that this actually makes me rather sad, and a little discombobulated.