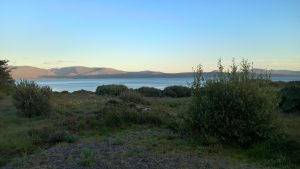 There's Something about Ireland
The peat bog for a start.  Seeps its way into everything, including the water supply in the cottage we rented on the Ring of Kerry.  The bath a delightful brackish brown as one stepped in and I wondered idly whether it would top up a tan.  The water in my glass likewise looked like mud and we questioned whether the well was pure enough to drink.  But being close to nature felt right in order to shake off the London neurosis for bottled water and slide into the Irish ways where possible.  The views outside our window across the water to the Kerry mountains took our breath away and we relaxed into its beauty.
I remember a colleague of mine who was raised in Rhodesia, now Zimbabwe, saying he had Africa and its big skies with him all the time.  There are things about Ireland and the Irish that I would like to bring home with me to England.  The banter for one thing.  It's everywhere – in lifts, on pavements, at a bar, on a bus, in shops, people starting to chat and banter with one another.  Strangers, family, friends.  It's friendly, witty and upbeat and there's much laughter to go with it.  You are left with a sense of connection and that all is well with the world.  I decided to try this friendly open approach more often back home rather than follow the typically English way of avoiding a stranger's eye.  I shall let you know how it goes!