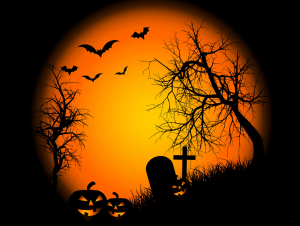 We've been surrounded by skeletons, skulls, pumpkins and zombies this week.  Hallowe'en has really caught on in a big way in the UK these days and here in Kew we had trick or treaters and small children dressed in all kinds of bloodthirsty outfits knocking on our door.  It's fun and yet far distant from its Christian origins back in 1745 when Hallowe'en stood for Hallowed or Holy Evening, this, in turn, potentially stemming from Aztec, Mexican and Celtic rituals celebrating the dead.
It got me thinking about ancestors and reminded me of taking my granddaughter to see the film Coco last year, a cartoon about a young Mexican boy transported to the Land of the Dead.  One scene struck me particularly and this was the suggestion – a surmise obviously – that once there is no one left on earth who remembers you then your soul loses its energy.  That certainly made me think how quickly one can be forgotten.  I only knew my grandmother and great-grandmother on my mother's side but beyond that I don't remember my grandparents at all.
And yet their presence inevitably lives on in my family's awareness and we are fortunate enough to have a family tree going back to the thirteenth century on my father's side.  But a family tree only gives names and dates and occasionally place names – one learns little about the person themselves.
My mother always said that she didn't believe in an afterlife or in ghosts and yet I have had experiences where I had a sense of a ghost, or was it a shadow?  Once, in the dormitory during my first term at Cranborne Chase, of my great-grandmother sitting on my bed.  A quiet shadow, very benign.  Another time a strange moment when I was sure the phone went in the middle of the night and my mother's voice said "hello pets" in the way she always had … and yet she was dead by that time.  There have been other moments when I have felt someone tap my shoulder when no one was there and these have left me with a questionmark about the mystery of death and what is beyond.
Earlier this year David and I both read Irvin Yalom's book Staring at the Sun: Overcoming the Terror of Death, which we found very thought-provoking.  Yalom takes examples of patients who have feared death and explores the subject from many perspectives.  A key message for us was the idea that we create 'ripples' around us as we go through life.  Yalom suggests that we should analyse our behaviour and the ripples we may have made in life up until this point and then consider carefully how we might live the next five or ten years differently to ensure that the ripples we create around us leave as positive a legacy as possible.
It's a salutary reminder to be as kind and well-behaved as one is able!  Reading another excellent book this week – The Ice Cream Queen of Orchard Street by Susan Jane Gilman – brought this home to me, as the main character's husband dies suddenly of a heart attack just after she has been absolutely horrible to him.  Ouch.  I wouldn't want that to happen, certainly.
It seems that ancestors have suddenly become even more important as, according to a new book on DNA, Blueprint: How DNA Makes us Who we Are by Robert Plomin, it is actually our DNA that shapes our intelligence, likelihood of success, ability at sports, whether we are kind or nasty, and even whether we enjoy a cup of coffee in the morning or not.  So perhaps we should look into the lives of our predecessors and consider what talents or quirks we have inherited and from whom.  Food for thought, certainly.  So I shall raise a toast to my shadowy ancestors tonight and wonder from whom I inherited my delight in a good glass of wine!