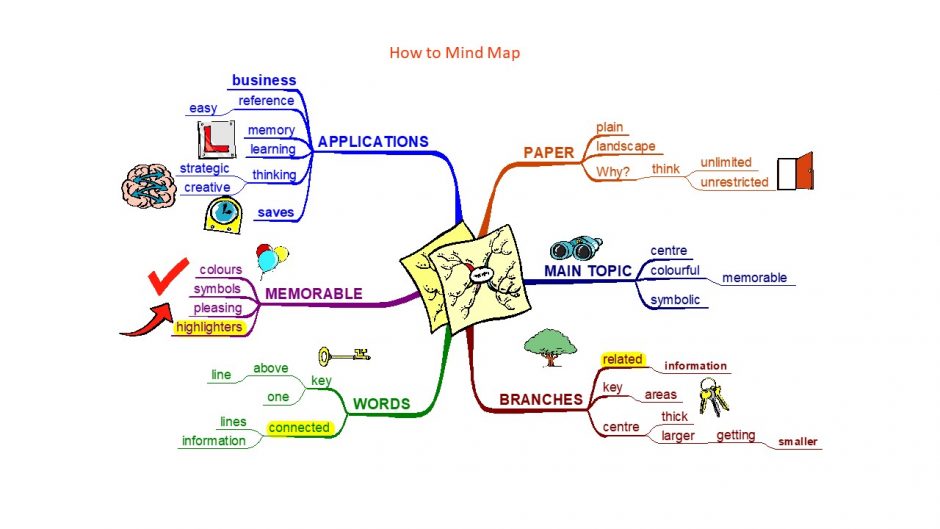 It would be fair to say that Mind Mapping (a technique to capture thoughts, ideas and facts into key words on one page) changed my life. It gave me a method that helped me to remember information, develop ideas, and record presentations. It boosted my confidence in my brain – reminding me, aged 42, that I had a brain that could work well when given the right tools! It also gave me a training programme to offer to schools and organisations when I set up my business, Positiveworks.
The person responsible for developing the skills I learnt and shared with others was Tony Buzan, author of Use Your Head and many other books on how to use your brain to best effect. He died suddenly and too young on 19 April this year, aged 76, after a fall. He believed 100% in the skills he taught and travelled the world in his effort to enable others to build what he termed 'mental literacy'. He was an impressive individual, not always an easy man, perhaps a little over-blown, but he changed my perception of my abilities and did the same for many thousands of others.
I first came across Mind Maps when I was studying for a History degree at King's College London, as a mature student. I was thoroughly daunted by all the facts I had to learn and hadn't written an essay since A levels, twenty years earlier. Then one of my younger student friends, Christian Rogers, suggested I try Mind Mapping. He told me how it had helped him catch up with his A level study after a prolonged illness. He was a firm believer in the technique and, indeed, the mapping technique enabled me to condense huge quantities of history notes down to one page, in a visual format that was easier to remember. Basically, Mind Mapping helped me clear my brain and focus down to the key points I wanted to make. Here is my essay plan on Hegel, condensed from some 30 pages of notes.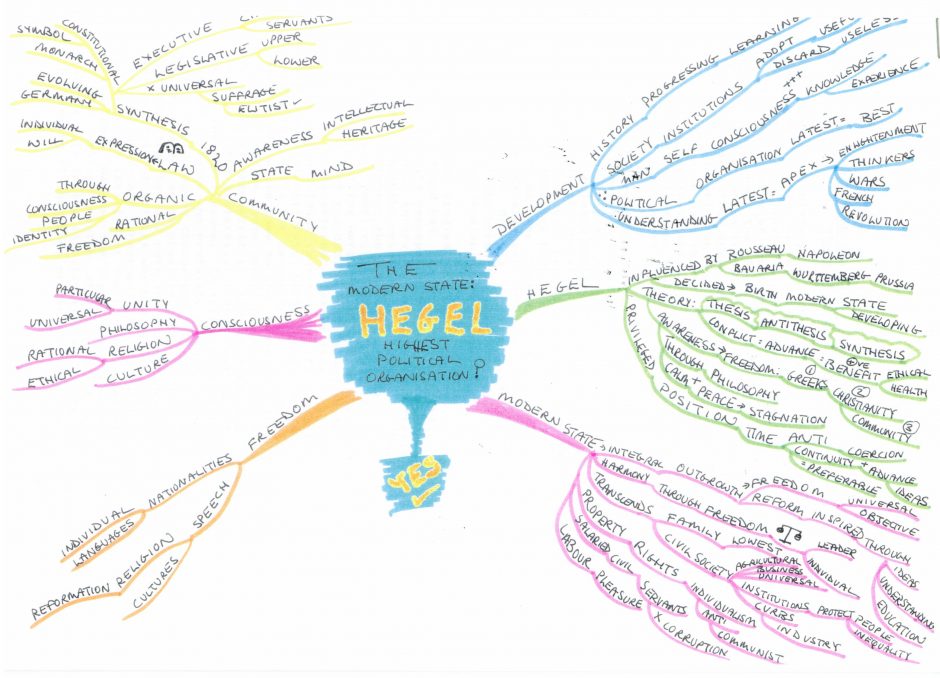 After my degree I went on to do a Postgraduate course to gain my Chartered Institute of Personnel and Development qualification at Thames Valley University. The tutor teaching us Communication skills was Lex McKee, who happened to be a devotee of Tony Buzan's work not only in Mind Mapping but in Memory skills too. So this was another step on my ladder towards training with Tony myself, which I eventually did in Bournemouth, where Richard Israel (later my co-author on Your Mind at Work and who sadly died young too) and Vanda North (very much alive and kicking!) were running the Buzan training course.
Few of my friends or family understood why I wanted to spend a considerable amount of money on doing this Buzan course. "What's it for?" "Where will it lead you?" "How will it make you any money?" But something in my gut drew me towards it and I put their well-intentioned concerns behind me and did the training. It turned my life around and brought in a good income for the twenty five years of running Positiveworks, as I travelled the world teaching others the way to read more effectively, mind map and memorise information, among other things.
I shall never forget the moment Tony Buzan persuaded me to go in for the World Memory Championship, only a month or two after my one week's training with him. When he first suggested it, I refused, saying "The people who go in for this have practised for years. I have only done one week!". "But you're one of my trainers now" he retorted stubbornly "You should give it a go." And so I did.
Going in for the Memory competition was such a huge lesson in the benefit of feeling the fear and doing it anyway because I actually won the Names and Faces competition (to remember as many as possible from 100 in 15 minutes) and also another competition to remember which images had been shown from a set of slides. This boosted my confidence enormously and convinced me that the techniques worked. It motivated me to share these systems with as many other people as I could in order that they could benefit from understanding how to make the most of their minds.
And so all this moved me towards setting up Positiveworks, with the strap line Positive People=Positive Results, determined to enable others to adopt new ways of thinking and learning that would release them from the clutter of thoughts and facts that could get in the way of good analysis. My additional training in cognitive-behavioural coaching and NLP supported this aim, integrating theories that enabled people to think effectively and helpfully about life and/or the subjects they needed to consider.
Aged 15 my son Rupert created this rather good image for my business!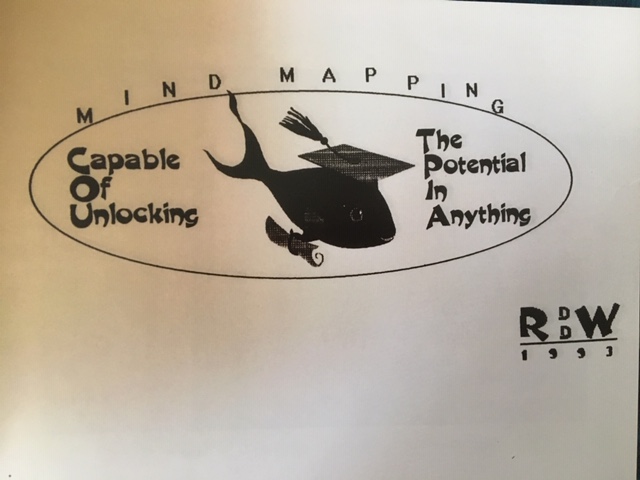 Years later he used Mind Maps for his Chartered Financial Analysis qualification and his 8 year old daughter Emmeline, my granddaughter, uses Mind Maps to help her remember and recite poetry for school.
So I shall always be grateful to Tony Buzan and to all those who happened to be there to guide me towards that path. Again, when I think of those people, I am driven to reflect on whether there was some kind of destiny involved. Looking back on it now it does almost feel as if there were hands drawing me along from one step to the next. I wonder if any of you have had similar experiences in your own lives?