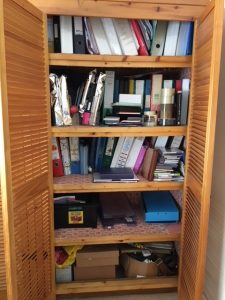 As many of you know, we are selling our Hampshire house looking to move to Kew for the next stage of our lives. [See https://search.savills.com/list/property-for-sale/england/hampshire#/r/detail/gbwnrswns170335]   So, as the snow falls outside, I am gradually working my way through a fairly massive job of decluttering.  Between us, having come together at the ages of 60 and 67 respectively, we have a good 40-50 years of adult hoarding, family photos and memorabilia, and life history hidden away in our offices, filing cabinets, sheds and attics.  I am usually reasonably good at clapping my hands and getting on with a transition but this process of letting go has been more challenging than I had imagined.
When I sold Positiveworks to Jackie and Chris of Sixth Sense Consulting in 2016 I naively assumed that it would be both easy and liberating to go to the filing cabinets and dispose of the 25 years of papers, presentations and articles that I had filed away in various cupboards and filing cabinets.  And especially the accounts and VAT books (sorry Jeremy!).  Of course – as those of you who have done this before me will probably know – it's not quite as simple as that!  When I finally started looking through the papers, slides and the various brochures that took me from 1992 to 2016 I found I was far more emotionally attached to things I had created and to the memories of clients, presentations, and geographical places I had visited on this wonderful Positiveworks' journey than I had thought I would be.
And so, gradually, I have made myself shred this, chuck that, bit by bit. It does clear the mind somewhat.   I am now on my third stage of going through the files, each time more capable of being a little more stringent than the time before.  "Will I really ever need this again?"  I ask myself.  I know I won't but I am also sort of aware that in later life, when I am perhaps in my 80s and more vulnerable, I might need the confidence boost of looking back at the books, articles and programmes I produced and feeling a little more pleased with myself than I might if I only have a rather elderly face to look at in the mirror every day!
I know that David is experiencing the same hesitancy, the same rerun of old memories in his head, the patients he has seen, the research papers he has written and the good work he has done.  Ultimately, it's about identity.
But there's no way there will be space for all these old boxes and papers when we move to a three-bedroom terraced house in Kew!