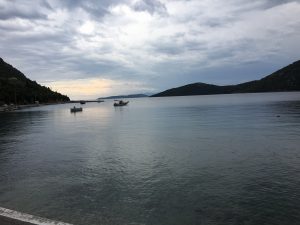 Summer holidays are over but the memories can last a lifetime. We have just had one of the most relaxing holidays we have ever experienced – in Greece on the island of Lefkada.   A comfortable hotel, the San Nicolas, in the sleepy fishing village of Mikros Gailos, overlooking an exquisite view of a peaceful bay surrounded by unspoilt hills and mountains.  There were two tavernas where we could sit and watch the fisherman load their nets and return with lobster, bream and red mullet.  It got me thinking about holidays past and recent and the ingredients that make them memorable.  Inevitably each of us look for different things from travel and David and I are lucky in enjoying similar pastimes, sometimes an adventure and sometimes a simple laze in the sun.  This holiday was the latter.
We relaxed, walked, swam in incredibly clear waters, and read some excellent books.  For those of you who appreciate a holiday reading list I will share with you that between us we read Yuval Harari's Sapiens,  Sam Bourne's To Kill the President, George Orwell's The Road to Wigan Pier (more on that to come in another blog!), Peter Nicholls' Us, Rose Tremain's The Gustav Sonata,   Kamila Shamsi's   Home Fire, Tolstoy's The Death of Ivan Ilyich, Patrick Mcgrath's The Wardrobe Mistress, Irvin D. Yalom's Staring at the Sun, Robert Harris' Lustrum,  and the start of his new book Munich.  What a luxury to be able to lie next to the sea in warm sunlight and have one's mind stimulated by so many new ideas, scenes, characters and events all happening in one's head.  And nothing, absolutely nothing, in one's Outlook diary to have to rush to or action.  Heaven.
This also gave me the time to reflect on memories of holidays as a child, as a parent or travelling alone.  Very recently a friend of mine happened to mention that he only ever went on holiday abroad once with his parents.  It made me realize that this was the same for me.  My parents took us on boating holidays on the Norfolk Broads when we were young and then we had one holiday in Brittany as a family when I was about 14.  After that they sent us alone to families in France, Spain, Italy to learn the language, broaden our minds and discover how to manage travelling independently.  Invaluable.  As I heard someone quote once, travel is one thing you buy that actually makes you spiritually richer.
Travel was expensive in the 50s and 60s.  I think today's young have accumulated many more air miles by the time they are 20 than I did by the time I was 40.  The no-frills airlines have made travel accessible to vast numbers of people so that today people see the world and mix with other cultures as a routine part of life.  Previous generations did not have this luxury.  I remember that when I worked as a researcher for the late Sir Alistair Horne on The Official Biography of Harold Macmillan, he told me how Harold Macmillan had commented that although the charter flights from Gatwick flew noisily over his house in Sussex, Macmillan was actually delighted whenever he saw one of those yellow Clarkson's planes as it meant that all kinds of people who could not previously have travelled abroad were now able to do so.
Later, as a parent myself, I realized that my parents hadn't always had as relaxing a time as they might have wished on our family holidays!  A time on the Norfolk Broads when my father got our boat stuck under Potter Heigham Bridge and never forgave us children for hiding downstairs in embarrassment.  Another year, taking us on the River Thames, the engine broke down just as we were heading for a weir – luckily we were saved from a nasty drop by someone throwing us a rope!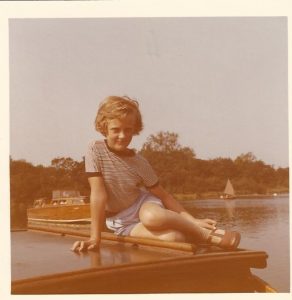 But I suspect the worst holiday for them was when I was about 13 and my brother 15.  My father answered an advertisement in The Times for a holiday on a houseboat in Cornwall.  The boat was dilapidated and turned out to be at the bottom of a cliff, with the nearest toilets at the top of the cliff.  When the tide went out we were on mud flats and the boat tilted dramatically to one side so that everything fell off the tables and shelves. As we manoeuvred to get on or off the houseboat, we were watched by an ancient Cornish fisherman whose boat was moored next to ours.  He observed us with a venomous sneer on his face.   And it rained and rained.  There are only so many clotted cream teas one can eat and I suspect my parents struggled, trying to amuse us teenagers.  We curtailed our stay.   Of course as selfish young I suspect we only thought about how bored we were and gave little heed to how difficult the whole experience must have been for our parents.
When I think back on family life, though, it wasn't the holidays that stand out in my memory as the most enjoyable moments.  It was the simple times when our parents joined us in the garden to play French Cricket, or sat by the fire with us playing Cluedo or Monopoly.  But for personal development and broadening of insight, travel is life changing.  I wonder what your own experience of holidays has been as a child, parent or adult?  I wonder what memories my sons have of our own family hols!
So, as we return and autumn arrives, I have been pondering how I can continue to keep Greece in my mind through the winter, so that I can feel I am on holiday even when I am not.  Alain de Botton explores the experience of travel in his thought-provoking book The Art of Travel.   He mentions J.-K.Huysman's novel A rebours, 1884, whose eccentric hero, the Duc des Esseintes, decides to go to England after reading Charles Dickens.  He gets as far as the Gare Saint Lazaire and visits an English tavern where he enjoys roast beef and Stilton and some ale but then decides it would be too much trouble to take the train to London.  After all, had he not just experienced 'England' in this tavern and was that not enough?  Apparently the Duc never left home again!
De Botton also describes another eccentric, Xavier de Maistre, born in 1763, who wrote a description of travelling around his own bedroom.  De Maistre recommended this pursuit for those who were too poor to travel or had fear of highwaymen.  He wrote of how, in his pink and blue pyjamas, he took the time to notice the elegance of the furniture in his bedroom as if for the first time, his argument being that we become blind to things of everyday beauty through habituation.
It's an interesting phenomenon that the brain files as wallpaper those views we see often.   We hardly notice the pictures on the walls of our homes, don't look often enough with detail at the scenery we pass on our way to work, hardly compute the type of architecture that surrounds us, unless we have a little more time to wander rather than 'be on the way somewhere'.  This is the key difference to me of a holiday – the time to wander, reflect.
One thing I have learnt to do, since reading The Art of Travel, is to recognize that travel is in the mind.  Also that our experience of travel relates to what we focus on.  We can be in a beautiful place and yet have an argument with our partner, or only notice the negative aspects of the place we are visiting.
Equally, we can be back home and imagine, from time to time, that we are on holiday.  I sometimes pretend I have arrived in London for the first time as a tourist.  Despite having lived there since 1967,  I imagine I am seeing the architecture for the first time, hearing the sounds of a busy 'foreign' city anew, noticing the amazing parks and gardens, the museums and galleries.  This way I can have a holiday in my mind any time I like.  And from now on I shall occasionally travel back to the sunshine on the waters of Mikros Gailos bay to refresh my mind with an imaginary summer even in the depths of an English winter.  Where might you go …?