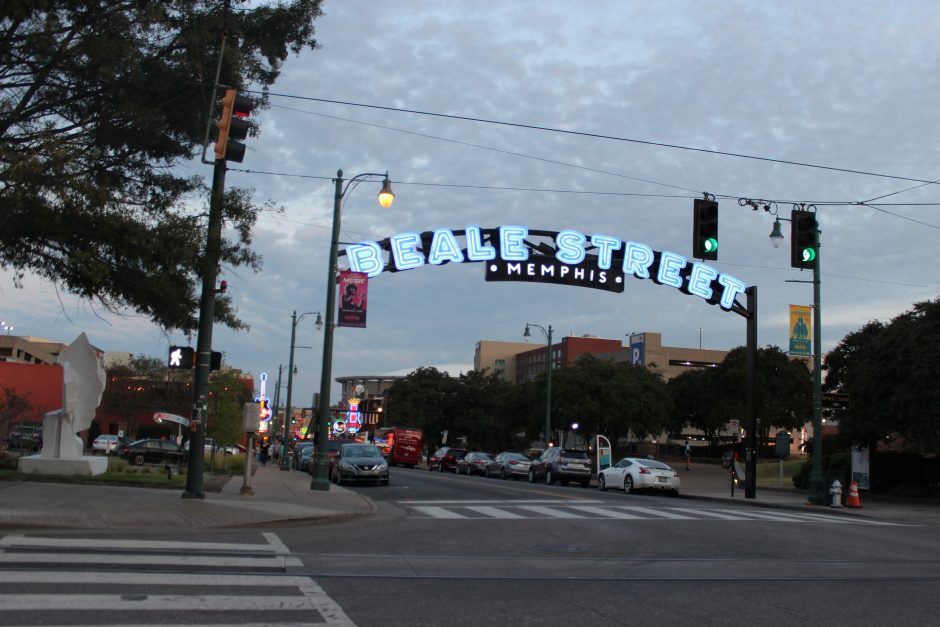 From Tennessee, North and South Carolina to Georgia the word we heard over and over was "Impeach". It took me back to a trip we did to Washington DC in the early 1970s when all the car stickers read "Impeach Nixon" following the Watergate scandal. Quite a flashback. And having thought we might escape the endless speculation and search for facts in the discussion of Brexit, we ended up hearing the journalists' endless speculation about impeaching Trump instead. Every programme we watched. The rest of the world might as well not exist when you travel in the USA.
But it's a great country to visit. Staggering landscapes and different cultures, architecture and town-planning in each place. The Brits snigger about the Americans not having passports or travelling outside their own borders but quite honestly where's the need? They have every kind of vista and recreation they could possibly require in their own country. And to travel anywhere they have to cross an Ocean which, until recently, was extremely expensive. And still costs a fair whack. I would say the majority of Americans we met on this trip had not been anywhere else. It didn't make them boring. However, we did become aware of treading carefully on their politics in the South. It is Trump-land, generally speaking, though we did meet some who were just as embarrassed about Trump as we are about our Westminster shenanigans.
I had been nervous about the driving. I needn't have been. As Paul Theroux says in his excellent book Deep South "travelling in America is unlike travelling anywhere else on earth…Breezing from place to place on wonderful roads seemed so sweet, so simple." Where, in my youth, I used to get impatient at the slow speed limits, now I found it a delight to travel slow, enjoy the view and not feel hassled. Even in the mountains near Highlands, North Carolina, the road tripped back and forth around twisty corners but it was nothing like as challenging as driving the narrow twisty roads one meets in France, say, where not only is the road narrow and precipitous but one is likely to get stuck behind a group of cyclists, making it impossible to overtake. You don't find cyclists on American roads. No joggers. No walkers. No bikes. Just cars. But then it was nearly 100 degrees!
"Don't walk the streets after dark" the Security Guard in Memphis told us the night of our arrival "there are crazies out there". And indeed we did see a few wildish looking folk and I came up with the 3-letter acronym TGFU – Thank God for Uber! Wherever we found ourselves, in whatever seedy part of town, we could call up a clean car and, generally anyway, a polite driver with whom we could have an interesting conversation as we were driven safely back to our hotel.
But we had a good time in Memphis nonetheless. Visiting Sun Studios and learning of the talent-spotter and entrepreneur Sam Phillips who set it up and recorded artists like Elvis Presley, Johnny Cash, Jerry Lee Lewis, Howlin' Wolf and Roy Orbison among many others. An example here, as we found in many of the stories we came across on our visit, of someone who had a vision and, despite difficulties, maintained the determination and resilience to achieve that success despite set-backs.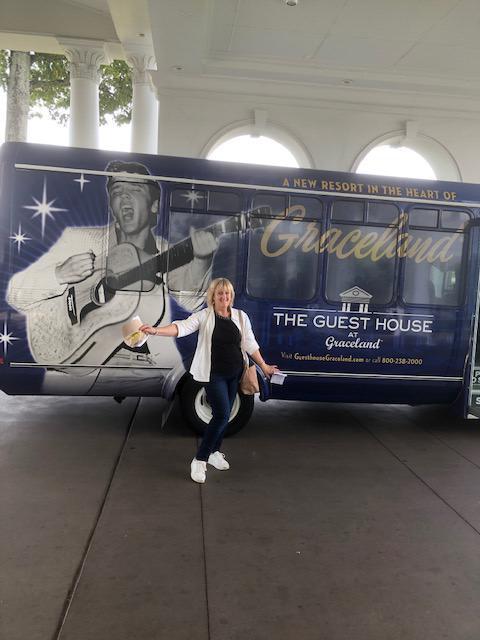 Then a visit to Graceland, Elvis' home, described as a 'mansion' although in size not much larger than many a middle class home in the UK these days. We were impressed, as many others have been, by the cosy and warm feeling of the house. Somehow one could sense that as a man Elvis was sentimental, loved his Mum and grandmother, and enjoyed being generous to family and friends. Seeing the photos of him as an extremely handsome young man and hearing his wonderful voice reminded me of my childhood when my older sister played his records on 45s, or EPs as they were known. Good times.
And so on to Nashville along the IS40 in our Chrysler Standard SUV. A comfortable car to drive despite the enormous trucks that surrounded us on the Interstate. We were told by one of our Uber drivers that the IS40 between Memphis and Nashville is known for drug traffic, as FedEx trucks bomb along there and the police apparently watch out for them. I was glad I didn't know that beforehand!
Everywhere we went we heard great country music. Both of us love it – tuneful, a bit soppy and always within a storytelling context. Our night at the Grand Ole Opry was one of the best of my life. We even saw Kevin Bacon and his brother singing as a duo there. And we noticed that there, and wherever there was an audience, the compere would ask the US Veterans to stand up while the audience applauded their courage and acknowledged their contribution. These announcements of recognition occur also in train stations and airports. This contrasts with home where, apart from the Chelsea Pensioners, there seems to be too little acknowledgement of our own troops.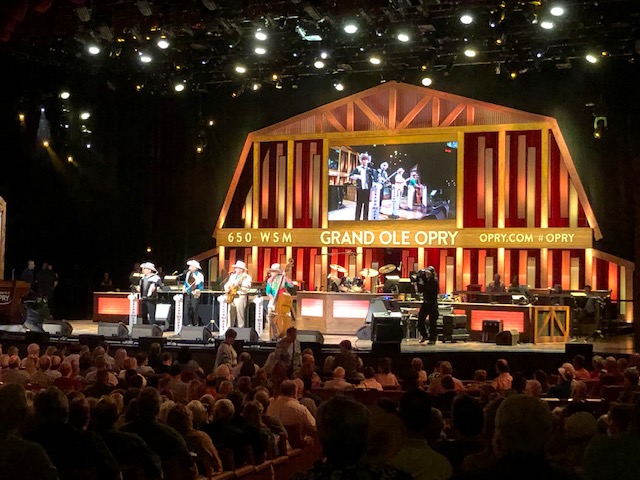 Nashville is party city. Music booms from every corner and there are hen and graduation parties galore, parading around in open top limos and trucks, drinking and waving to the passers-by on the pavements. A funny idea, really, a 'look-at-me' past-time that does seem a little pointless, although no doubt fun for those involved.
Some things were hard to find. Fresh food. A convenience store. Milk. It was near impossible to get a cappuccino. I have got so used to a morning cup that it never occurred to me that America, home of Starbucks, would so seldom be able to offer me a cappuccino. And so it had to be the usual revolting (in my opinion) American filter coffee. And with taxes and 20% tips on top. That takes some getting used to when the pound is so low against the dollar!
The weather was near unbearable in Memphis and Nashville. It was unusually hot even for them, although we heard that similar temperatures had been experienced for a long period in 1954.
Next stop was Dollywood, Dolly Parton's hotel and theme park which was far more elegant and comfortable and far less bling than we had imagined. Country music played in the hotel and the theme park, both of which are set in pretty wooded countryside. The 'bling' moment was at the Dolly Parton Stampede, which is a sort of Wild West show with Native Indians, cowboys, horses, buffalo, long-horned cattle being corralled, wagons, piglet-racing, chase-the-chicken racing and more. It was all huge fun and set in the context of the Civil War, the North against the South as a competition within the audience. I reflected that we probably wouldn't allow the piglet-racing nor the chicken-chasing in the UK as the RSPCA might forbid it but all the animals involved looked thoroughly healthy and well-tended.
And everywhere we went we found good manners both from adults and children alike. Very polite 'good mornings/good afternoons' and 'ma'am' and 'sir' used frequently and a friendly welcome. The Southern accent and hospitality is renowned and we certainly experienced it along the road and especially once we reached Highlands in North Carolina. A wealthy gentile town that reminded me of Wimbledon Village or Virginia Water, where we felt a real sense of community and family values. There are many churches of all denominations here as elsewhere and, on the Sunday, the Main Street was full of smartly dressed folk making their way to one church or another. I felt the focus of that neighbourliness when I was having to reverse out of a difficult blind spot and a kind lady spontaneously knocked on my window and said she would help me out by checking the traffic behind the truck parked at my rear. I was very grateful.
And beyond that we didn't see CCTV and few radar speed traps. One is not coddled at all in terms of checking in to a hotel (no passport requested). Picking up the rental car they just pointed to a row of cars and told us to choose the one we wanted. No instructions, no information whatsoever. So when we needed fuel we didn't know whether it was diesel or petrol. There was no notice on the car at all to signal what it might be. Luckily there was a guy filling his car who told us he thought it would be petrol. Luckily also, he was right!
We visited the civil rights museum in Memphis and this reminds one of the terrible barbarity of humans one to another. The legacy of the Jim Crow policies of segregation are still felt and when David travelled the Southern States in 1963 the audiences were segregated in the jazz clubs he went to. In Savannah and Charleston, at the end of our trip, we visited plantations and saw the dreadful conditions of the enslaved. There was little mention of the slave masters in Africa who sent them there, which I felt was an omission. And the sad part is that slavery and trafficking of humans still exists today, all these years later. But then human cruelty can be witnessed throughout history – the holocaust, Pol Pot, Stalin, the wartime 'comfort women', Chairman Mao and many many more. The question we need to keep asking is how to stop it happening again.
Something I noticed was that we saw virtually no Asian or Indian families here. A map of Nashville showed where different populations live. It reflected how like attracts like – Jewish communities, Irish communities, Hispanic communities, Afro-Caribbean communities come together there as they do in other places. Inevitably one is drawn to an area where there is a cousin, aunt, uncle or friend. It's human nature.
On another note, I did begin to wonder whether orthopaedic surgeons were involved in the design of loos. I couldn't imagine how the larger American managed either to sit down let alone get up from sitting positions that were almost on the ground. The pressure on dicky knees and hips must be enormous. Good for business perhaps?!
It's been hard to escape the tomato ketchup bottle or food wrapped in a bun. But every so often, and particularly if you look hard, you do find excellent restaurants offering superb food. And expensive food, in pleasant surroundings. But the norm is fast food and chips still served on plastic trays in plastic cups with plastic straws. Talking of which we only saw one roof area of solar panels and no wind farms where we have travelled. Concerns about the environment were rarely witnessed.
But there are signs warning of $1000 fines and prison for littering. This reminded me of the Arlo Guthrie movie Alice's Restaurant. The roadsides are, as a result maybe, far cleaner than ours. I was always horrified by the amount of litter and debris we passed as we drove down the A31 from London to Winchester. Surely we should educate our children and adults to respect the countryside more by increasing our own littering fines?
What else? We saw far fewer dogs than we would here. And I didn't see a single cat so it's lovely to get back to Chico.
The stories we heard in the historic houses we visited in Savannah and Charleston brought to mind the tough life people experienced. Of a house buzzing with mosquitoes and bugs, even as one ate one's meal, or slept. Of yellow fever, diptheria, death in childbirth, smallpox, infant mortality. Story upon story of loss – human and financial. Then the resilience of a widow or widower to pull themselves back up again.
Savannah was saved from the bulldozers by a group of seven feisty and determined women who bought up the historic houses, one by one, restored them and protected them from planners who had wished to turn them into car parks. We heard similar stories in Charleston. Both towns are fabulous examples of planning and architecture, though our Uber driver told us that urbanisation was forcing rattle snakes and poisonous spiders into the town centres now. She had just been bitten by a Brown Ransom spider that kills off cells. She thought it might have been in her car – I was glad to get out!
Our train ride from Savannah to Charleston on Amtrak's Silver Meteor was extraordinarily slow-paced. And late. Where seats and carriage numbers would have been allocated by computer and online booking in the UK, here it was done by hand, on pieces of paper depending on where you were headed. For a country that has led the digital revolution this seemed somewhat archaic though worked fine, and the service we were given was both friendly and helpful.
So what do I take from all this? That good manners and a friendly and curious approach to others brings with it a richness of sharing and information. That it was not so long ago that life was very harsh in so many ways and that medicine and science have enabled us to live so comfortably and well now that illness and death, though natural, seem to offend us. That the spirit of enterprise brings with it resilience. Get knocked down and you find ways to bob back up again if you possibly can. The sense of not being ashamed of business – that hard work brings with it meaning, innovation, the ability not only to care for one's own family but to employ others and pay the taxes that enable a reasonable infrastructure for all. Of course it isn't perfect but for us everything worked like clockwork. I would recommend it! And despite warnings, we didn't see a single gun, other than in a Museum!