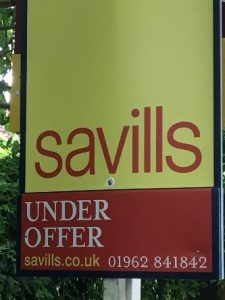 Firstly a very big thankyou for staying with me and choosing to read some of my Thinking Aloud blogs.  GDPR was rather scary – I was worried I might end up with only 4 people still subscribing.  In fact I lost less than a handful, so that feels very heartening!
And now our house in Hampshire is under offer and someone loves our beautiful quirky home as much as we do.  And that feels wonderful and yet poignant at the same time as it reflects the end of an era, brought into greater focus by our grandchildren who make remarks like "we love your house!"  "Your house is the best house in the world!" "Will your house in Kew have a swimming pool – we LOVE your pool!" … and the heartstrings get pulled.
Inevitably the Kew house will not have a swimming pool – in a garden of about 12 x12 ft this would be challenging!  And we will just about be able to have our children and grandchildren to stay but certainly not more than one family at a time, whereas here in Hampshire we have been able to accommodate, on beds, sofa beds, camp beds, futons, David's four sons and their families, adding up to some 14 to stay.  It was exhausting, with the shopping, catering, the sheets, the washing, ironing and vacuuming afterwards but it was great fun and everyone loved and appreciated it.  My two sons and their families also had some good times in this wonderful adaptable space and my three grandchildren and David's seven grandchildren all loved it and had a ball.
I can still remember my grandmother's house, still walk around it in my mind and get the sense of being there with her, chatting in the kitchen, chasing after her with an ashtray when her cigarette ash looked as if it would fall in the soup (this seems to be a common experience for people of my generation!), crawling into her double bed, playing in the garden.  Hopefully our grandchildren will also remember this lovely place and have some fun with us in the next.
And so on to a new transition and inevitably I think of my parents moving from a big house to a small one towards the end of their lives, as David thinks of his moving from Doncaster to Barnes.  It reminds us that we are our parents' age.  How can that have happened?!  And it feels both like a closing down and yet also an opening up of many new opportunities and a fun lifestyle in Kew, where there is so much on offer.
We spent the weekend in Kew for David's 75th birthday, staying at the delightful Coach and Horses Inn on Kew Green.  We ate chocolate birthday cake cooked by Kate Comer, photo attached, we were entertained by a magician, Steve Rowe, and the blended families chatted happily and the grandchildren have come away practising their magic tricks on us all.  We walked by the river, had a picnic in Kew Gardens bought at the very buzzy and vibrant farmer's market in Kew Village on Sunday.  We tasted our new life and liked it.  But there will be both gratitude and sadness at leaving Hampshire Hunt Cottage as it has been the scene of many happy occasions.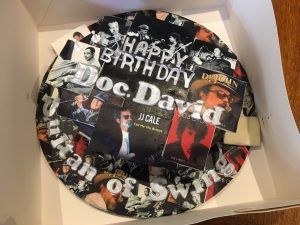 In the meantime though we are betwixt and between, stuck in the ghastly limboland that is selling a home in England.  A process that can leave you in stress and uncertainty for weeks at a time while surveys are carried out, mortgage companies decide whether or not to give you a loan, searches have to be completed and lawyers ask stressful questions like "where is the woodworm certificate?".
And one has to scramble around to find the cash to pay exorbitant amounts of Stamp Duty for a house half the size of the one we are currently living in, not to mention removal costs, agent's fees and the rest.  We Baby Boomers are berated for not selling our houses but it isn't that simple.
I feel I have half my heart in one home and half my heart in the next and yet I don't dare get excited about our new life because we have not yet exchanged contracts and until that is done, nothing is certain.  I have had so many experiences of moving that I know that even the most seemingly simple chain – which ours appears to be – can break a link unexpectedly.  Why does it have to be so difficult in England?   Everybody complains about it but nothing changes.  In France, and I believe Scotland, things are more-or-less firmed up within 14 days.  Why can't we make this process less stressful?
My brain is scrambled and my nights are filled with to-do lists.  We are endeavouring to downsize and declutter from 3000 sq ft to approximately 1500 which is not easy.  When I mention to David that we won't have room for something he just looks at me with sorrowful eyes and says "but I am rather fond of that …" or "it's not very big…" But how many small things, or sentimental ones, can one fit into a smallish house?  Chatting to my sister the other day, whose dear late husband Leo, was not dissimilar to David, she told me how, when they were moving to France, she would spend the day filling black bin bags with things she didn't think they should take, only to discover Leo pulling them all out again at the end of the day.  Hey ho … I know the feeling!  And I can't really talk – I find it near-impossible to let go of books.
But I shall miss many things about Hampshire and especially our book club, which we have hosted for several years and has provided many jolly occasions and stimulating conversations; the writing group of which I am a part in Petersfield which has changed my life, supporting me in becoming a poet and writer; the Loose Muse poetry evenings in Winchester so well run by Sue Wrinch.  And for David his tennis and Warrior exercise group, not to mention for both of us, local friends, Alresford, Winchester Cathedral, the Watercress Line, plus some exquisite countryside.
Underneath it all though, when I allow myself to be, I am deeply excited and look forward to new adventures and to being closer to grandchildren.  But how I long to get out of this conveyancing limbo-land and to arrive there in our new life!  The provisional date for moving is Friday 13 July, which is my mother's birthday and lucky for some, so I am hoping that this is a good omen.